Sub-littoral off Widewater
An aerial view of the inshore coast, such as those provided by Google Earth ™, will often show the seabed. Close to the shore the uniform sand/sediment shows as pale green sometimes with streaks representing different sediment types. Darker green – black represents algal growth either on rocks, cobbles etc. and hard substrate. Using these data it is possible to ground-truth the seabed and see what is actually there. Of course the dates the images were taken may mean that the algal growth is not present, so there is no guarantee that what is shown at the time the image was taken is what is to be found on diving the area.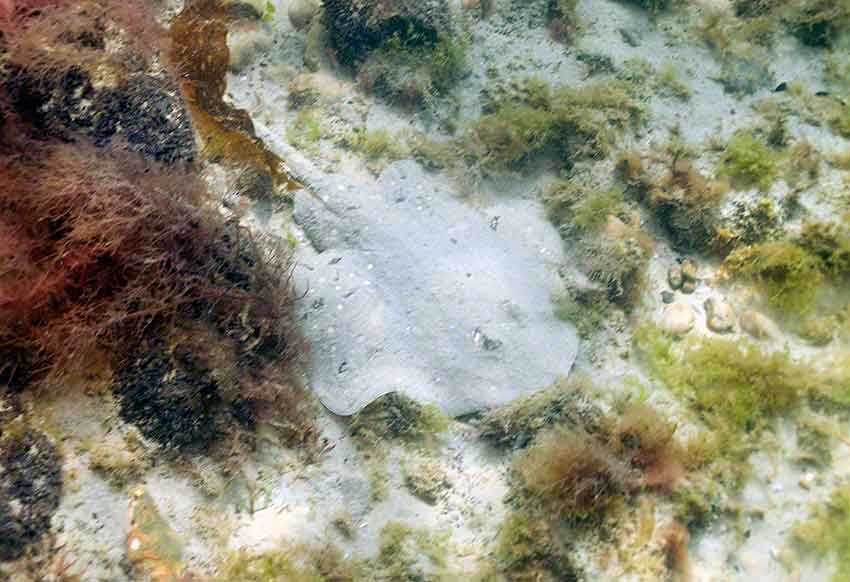 A predominant feature of the seabed from the west of Worthing to Hove is the presence of areas of vegetated shingle/cobbles with occasional small exposed areas of chalk. These areas may extend to the low water spring level of the shore but often do not arise until 50-100m off shore. The algae and sediment provide niches for a rich and varied marine fauna. During storms, particularly in the autumn and winter, wave and surge action rips algae and other life free and casts it up on the beaches – something that can lead to complaints about smelly decaying weed.
Although a very shallow dive, best done about an hour before low water (less distance to swim and better visibility than on the high water slack), for anyone interested in marine diversity it is highly recommended. The lower shore and sublittoral rippled sand will yield gurnard, pipefish, rays (sting rays are found at certain times of the year), gobies, flatfish, brown shrimps, masked crabs etc. The algal areas can have masses of blue mussels, algae and other life. At the interface of the sand and cobbles/chalk cuttlefish and thornback rays occur (but this will depend upon the time of year).
A gallery of the life to be found in this area, (50° 49.2N 0° 17.5 W).
Should you wish to contact me:

Unless otherwise stated all images are Copyright of Gerald Legg, naturaimaging. If you would like to use any images, then high resolution ones can be obtained by contacting me.


This work is licensed under a Creative Commons Attribution-ShareAlike 3.0 Unported License.