A gallery of images taken during the visit to the beach. Should any be needed for printing, 300 dpi versions can be sent.
A species list follows the images. Hover for title and click to enlarge.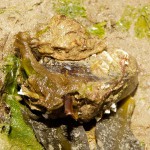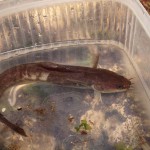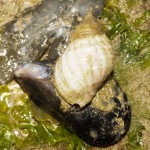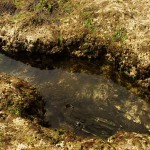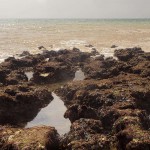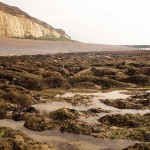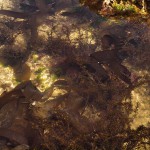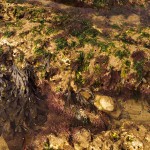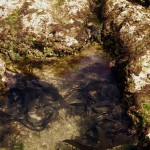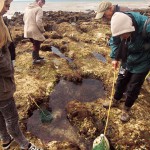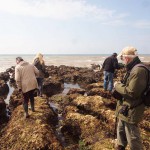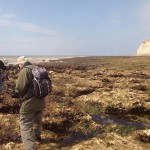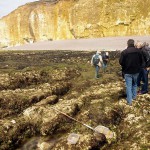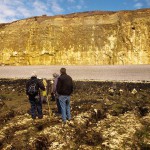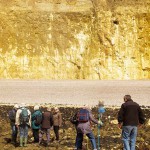 SPECIES LIST
Diatoms
Fine tufted 'colony' forming species on upper shore chalk with Blue-green algae, Cyanophyta.
Brown Seaweeds: Phaeophycota
Serrated Wrack, Fucus serratus
Sugar Kelp, Laminaria latissima (= saccharina)
Oar Weed, Laminaria digitata
A Bushy Wrack, Cystoceria species
Wireweed, Sargassum muticum
Small brown feathery weed type, Sphcelaria species, on wracks
Pylaie's Brown Filaments, Pylaiella littoralis
Hairy Sand Weed, Cladostephus spongiosus
Encrusting brown seaweed
Green Seaweeds: Chlorophycota
Sea Lettuce, Ulva lactuca
Common Green Branched-weed, Cladophora rupestris
Mossy Feather Weed, Bryopsis species
Red Seaweeds: Rhodophycota
Coral Weed, Corallina officinalis
Black Scour Weed, Ahnfeltia plicata
Dumont's tubular Weed, Dumontia cortorta
Sea Horsetail, Halurus equisetifolius
Pepper Dulse, Osmundea (=Laucencia) pinnatifida
Cock's Comb, Plocamium cartilagineum
Irish Moss, Chondrus crispus
Siphon Weeds, Polysiphonia species (several)
Rosy Fan Weed, Rhodymenia pseudopalmata
Sea Beach, Delesseria sanguinea
Pincer Weeds, Ceramium species
Encrusting reds - various
Sponges: Porifera
Hymeniacidon perleve
Halichondria panicea
Sea Firs, Anemones: Cnidaria
Sea Fir Dynamena pumila
Beadlet Anemone, Actinia equina
Worms: Annelida, Polychaeta
Sand Mason, Lanice conchilega
Green Leaf Worm (eggs – 'snot'), Eulalia viridis
Keeled Worm, Pomatoceros lamarcki
A tube-worm (tube of sand grains on/under stones), Sabellaria spinulosa
A tube-worm (boring in the chalk), Polydora ciliata
Molluscs
Piddock, Pholas dactylus
White Piddock, Barnea candida
Blue Mussel, Mytilus edulis
Common Limpet, Patella vulgata
? Black-footed Limpet, Patella depressa
Flat Topshell, Gibbula umbilicalis
Grey Topshell, Gibbula cineraria
Thick Topshell, Osilinus lineata
Small Periwinkle, Littorina saxatilis
Edible or Common Periwinkle, Littorina littorea
Flat Periwinkle, Littorina obtusata
Dog Whelk, Nucella lapillus
Sting Winkle/Oyster Drill, Onecebra erinacea
Crustacea
Barnacle, Balanus crenatus
Barnacle, Semibalanus balanoides
A Prawn, Palaemon elegans
Broad-clawed Porcelain Crab, Porcellana platycheles
Velvet Swimming Crab, Necora puber
Shore Crab, Carcinus maenas
Fish: Pisces
Five Bearded Rockling, Ciliata mustela
Corkwing Wrasse, Symphodus (=Crenilabrus) melops
Probably some more too!