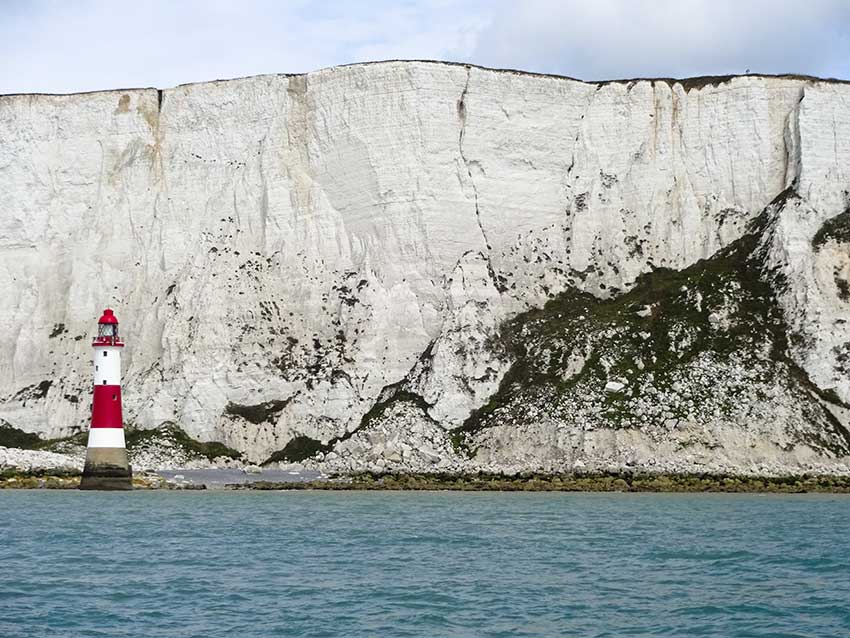 By the 1980s it became clear that we knew relatively little about our marine life and habitats. Just what is under the sea? Netting, dredging, grabbing, trawling and other indirect methods had provided us with a great deal of knowledge of what we have around our shores. Then came scuba (self-contained underwater breathing apparatus), developed by Emile Gagnan and Jacques-Yves Cousteau in 1943. The development and refinement of the equipment gathered pace making it possible for amateur divers to explore shallow inshore waters. In 1953 the British Sub Aqua Club was founded, bringing together enthusiasts and developing the skills required to be able breath underwater. It became clear that the 'aqua-lung' had opened up a whole new opportunity to learn about and understand the animals, plants and communities around our coast. As a result our understanding of marine life exploded.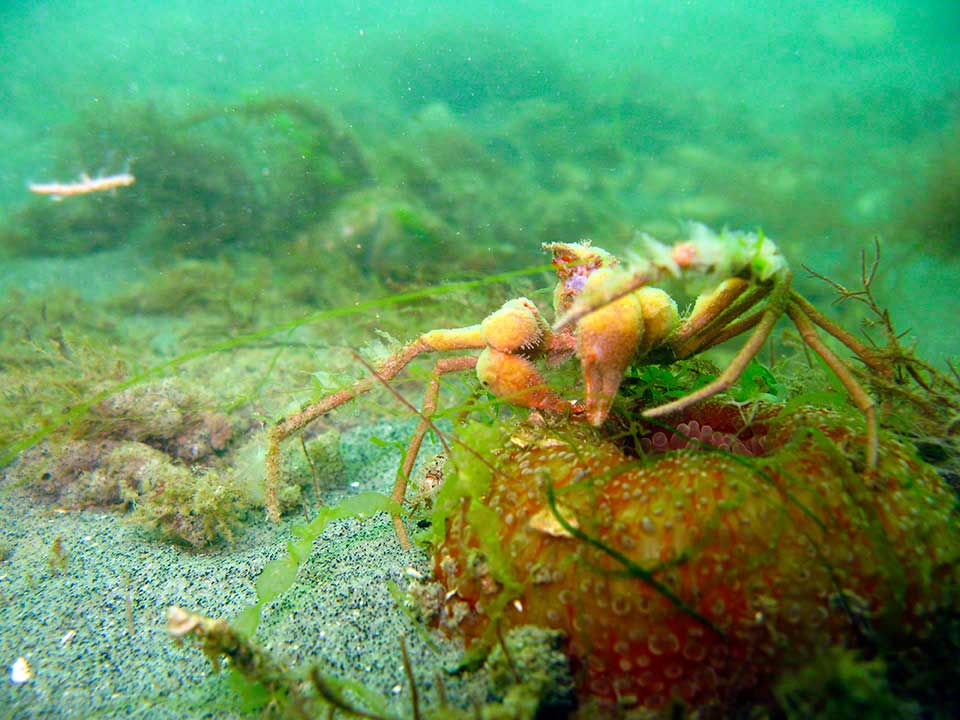 An example of how our understanding of life has changed can be readily seen in comparisons of modern and old texts. For example, the wonderful Ray Society monographs describe species in detail but often have limited reference to where they occur largely because they only had dredge samples to go by. Take the anemone Diadumene cincta. The British Sea Anemones by T.A. Stephenson 1935: 'This species has been known from the Plymouth Breakwater for some years, but was first described in 1925.' ... 'In August and November, 1932, the species was found in a brackish creek in Essex...' ... 'abroad, the only authentic record so far is from an unknown locality in Holland (Carlgren).'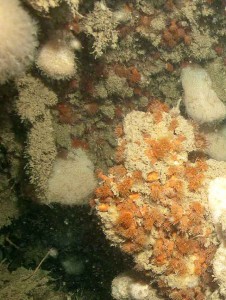 Compare this with the Seasearch Guide to Sea Anemones and Corals for Britain and Ireland by Chris Wood: 'Diadumene cincta has been recorded from all coasts of the British Isles though most records are from the south coasts of England and Wales.' It is not rare, divers can find this anemone quite frequently on wrecks and other hard substrates. All because we can bottom truth and actually see what is around rather than randomly dropping a grab and seeing what comes up.
In the early 1980s the idea that the ever growing population of recreational divers could be exploited. They could record what they saw when they dived, not only helping us understand the marine environment but also provide them with a further incentive to dive, learn and develop skills - make diving even more interesting. Any dive can be a Seasearch dive. To help quantify and qualify the data some training is necessary, but this in itself is interesting and provides the opportunity for divers to expand their knowledge and enjoyment of the sport.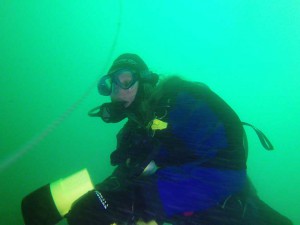 One of the first times that amateur divers became involved in surveying was in 1982 when members of the Marine Conservation Society, SE Branch carried out sublittoral survey work in Sussex. The data, together with information on other marine activities, provided a basis for recommendations for conservation of the marine environment in the area published in Sussex Sublittoral Survey 1984. From this early study Seasearch as we know it was borne.
In Sussex, where a lot of Seasearch development work was carried out by Robert Irving, Seasearch started in 1992. Data were input into a MS DOS database system called Marine Recorder using an early but extremely sophisticated program called Advanced Revelation by Revelation Software [still produced but in a more . With the evolution of computers this system has been superseded by a Microsoft Access system of Marine Recorder developed at the Joint Nature Conservation Committee.
Analyses of the data accumulated over the following four years led to the recognition of important sites. After a rigorous selection process, and with the help of Brighton & Hove Council, East and West Sussex County Councils, 12 sites were designated as Marine Sites of Nature Conservation Importance. An additional 12 sites were added later.
1.   The Bracklesham Balls
2.   The Mixon Hole
3.   'Inner' Mulberry Harbour Unit
4.   'Outer' Mulberry Harbour Unit
5.   The Waldrons Reef
6.   Shelley Rocks
7.   HMS Northcoates
8.   Worthing Lumps
9.   South-West Rocks
10. Looe Gate
11. Seaford Head Gullies
12. Royal Sovereign Shoals
13. The Hounds
14. Whirlpool Hole
15. Outer Owers
16. Kingmere Rocks
17. Ship Rock
18. Brighton Marina
19. Marina Reef
20. City of Waterford Wreck
21. Subtidal wave-cut chalk platform (Brighton - Newhaven)
22. Subtidal wave-cut chalk platform (Hope Point - Beachy Head)
23. Beachy Head
24. The Horse of Willingdon Reef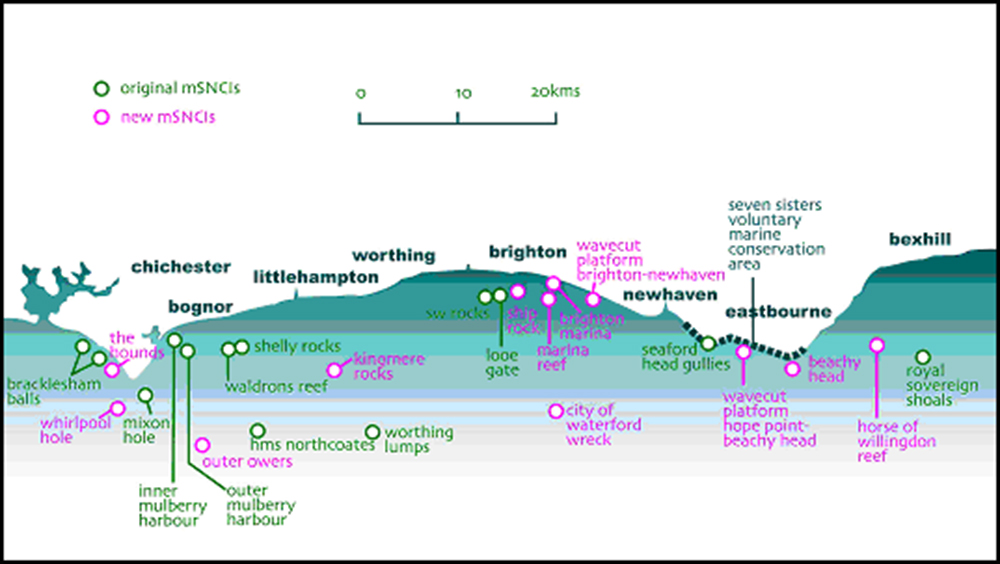 Details of the sites can be seen here mSCNI_Table.
Now country-wide branches of Seasearch input data on an annual basis and have helped provide essential information which is verified, combined and input into the National Biodiversity Network where they are available to view and be used. Such data have helped the recognition of Marine Conservation Zones and their designation This is an on going process as further evidence is amassed hopefully leading to further zones being recognized. See also here. The government has produced a policy document outlining their aims to 2015.
A number of organisations are involved with our marine environment including: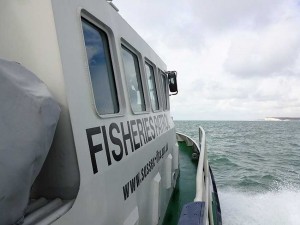 1. Seasearch
2. Seasearch Partners
3. Seasearch on Facebook
4. Sussex Wildlife Trust
5. Sussex Inshore Fisheries and Conservation Authority
6. National Biodiversity Network Gateway
7. Marine Conservation Society
8. Sussex Inshore Fisheries Conservation Authority
Over the years a number of reports have been produced covering various aspects of Sussex marine life and sites:
1. South-West Rocks
2. Looe Gate
3. Ship Rock
4. Bognor Reef
5. Outer Mulberry 2009 Report
6. Report on the Chalk reefs of Sussex, exemplified by the recreational dive sites: south West Rocks (mSNCI), Looe gate (mSNCI) and Shop Rock (mSNCI)
7. Benthic Marine Algae E English Channel
8. Chalk Cliff algal Communities Kent & Sussex
9. Macrobenthos of non-chalk rocky shores in SE England
10. Sandstone East Sussex
11. East Sussex County Council, coastal and marine biodiversity Marine Sites of Nature Conservation Importance Seven Sisters Voluntary Marine Conservation Area Sussex Inshore Fisheries and Conservation Authority
12. Macrobenthos of chalk and Greensand Shores in SE England
13. Selsey and the Hounds Survey Report
14. Selsey and the Hounds Appendix
15. Seven Sisters Marine Surveys 1986
16. Summary Sussex Beachy Head West rMCZ Report 2014
17. Summary Sussex Kingmere rMCZ Report 2014
18. Sublittoral Chalk Habitats in Southern England.
19. Sussex biotopes
20. Sussex Marine Sites of Nature Conservation Interest
21. Sussex Sublittoral Survey 1984
22. Report of the Sussex Seasearch project 1992-1998
23. Sussex Seasearch Survey 2006 Summary Report
24. Sussex Seasearch Summary Report 2007
25. Sussex Seasearch 2009
26. Sussex Seasearch Annual Report 2011
27. Sussex Seasearch Newsletter 2012
28. Sussex Seasearch Newsletter 2013
29. Sussex Seasearch Newsletter 2014
There are several other designations for marine sites (see Sussex IFCA)
Other organisations that have an interest in the marine environment include:
To Contact me: