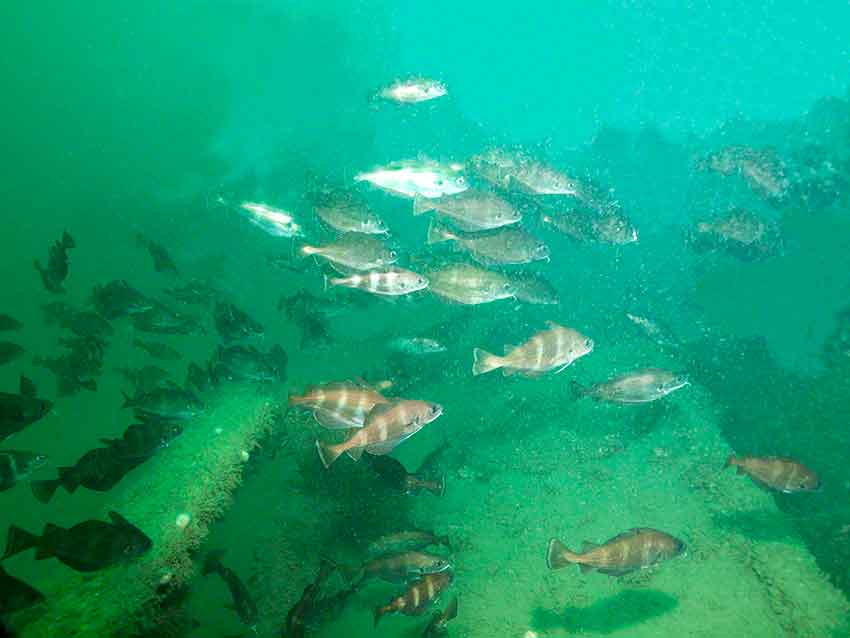 The 'Seam Trawler' is the mysterious wreck of a 98ft (30m) long by 31ft (9.5m) wide ship which lies broken into two parts on the seabed under 16 m of water. It is situated approximately five miles off Shoreham, 50° 44.79' N 0° 11.37' W. It is in reasonable condition with rudder and propeller intact; the bow has toppled onto the starboard side exposing the engine room. The surrounding seabed is of soft sediment and easily disturbed.
A gallery of images can be found here.
To Contact me: [bestwebsoft_contact_form]
Species Recorded on and around the Steam Trawler
Sponges
Dysidea fragilis
Amphilectus fucorum
Suberites ficus
Hydroids
Tububularia indivisa
Hydrallmania falcata
Nemertisea antennina
Soft Corals
Alcyonium digitatum
Sea Anemones
Diadumena cincta
Actinothoe sphyrodeta
Corynactis viridis
Nemertean Worms
Micrura fasciolata
Polychaete Worm<s/strong>
Pomatoceros triquetor
Molluscs
Ostrea edulis
Crustaceans
Homarus gammarus
Cancer pagurus
Necora puber
Bryozoa/Seamats
Cellipora pumicosa
Horseshoe Worm
Phoronis hippocrepis
Echinoderms
Asterias rubens
Sea Squirts
Clavelina lepidiformis
Styela clava
Bony Fish
Gadus morhua
Pollachis pollachius
Trisopterus luscus
Taurus bubalis
Labrus bergylta
Parablennius gattorugine
Pleuronectes platessa
Should you wish to contact me:

Unless otherwise stated all images are Copyright of Gerald Legg, naturaimaging. If you would like to use any images, then high resolution ones can be obtained by contacting me.


This work is licensed under a Creative Commons Attribution-ShareAlike 3.0 Unported License.