Worthing Lumps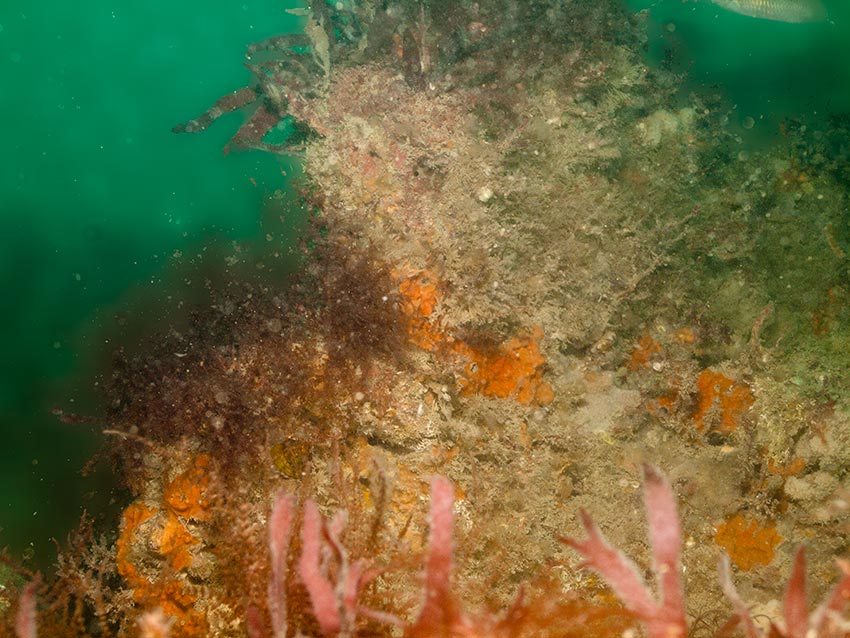 Chalk is an internationally uncommon limestone and Britain has excellent extensive examples of it. Along the southern British coast it forms spectacular cliff exposures in Kent, Sussex, Hampshire and Dorset.
Marine cliff exposures are rare and Worthing Lumps have been given the acolade of 'one of the best chalk reefs in Europe (Marine Conservation Society) and is designated a Marine Site of Conservation Interest.It occurs about 8 km (5 miles) off the coast of Worthing, facing north running approximately south of ENE to WSW. The vertical cliff face rises to approximately 3 m (10.75 ft). At is base the seabed consists of broken chalk rubble, flints, gravel and shells of Slipper Limpet (Crepidula fornicata). The top is extensively covered with red algae, the cover of which varies throughout the year (storms can tear it off and deposit it on Worthing's and other beaches to the east).
The reef-face itself is heavily bored by piddocks, Pholas dactylus, and its broken nature provide numerous niches for a large range of marine life including molluscs, seafirs, seamats, tube worms, sponges and fish. The nooks and crannies and rich life also provide ideal nursery conditions for several species of fish, notably Black Bream which produce 'nests' close by to the reef (see Sussex Inshore Fisheries & Conservation Authority)
Together with exposures of sandstone the Worthing Lumps forms part of the Kingmere Recommended Marine Conservation Zone.
For more information about Sussex Chalk Cliffs see the Report by Seasearch
Sussex IFCA have produced an interesting video of the site.
Click here for the Gallery of Life for Worthing Lumps.
To Contact me:

Species found include the following:
[to be listed]