The sandstone and clay cliffs give way to shingle and then sand, sandstone and outcrops of peat. Further down the remains of an ancient forest occurs. Approximately 7,200 years ago the sea level was 30m lower than it is today. As sea levels rose woodland of oak, hazel and birch was flooded and the remains covered in sediment and partially preserved. Coastal erosion, storms and tides expose the remains of the old trees which now harbour marine life.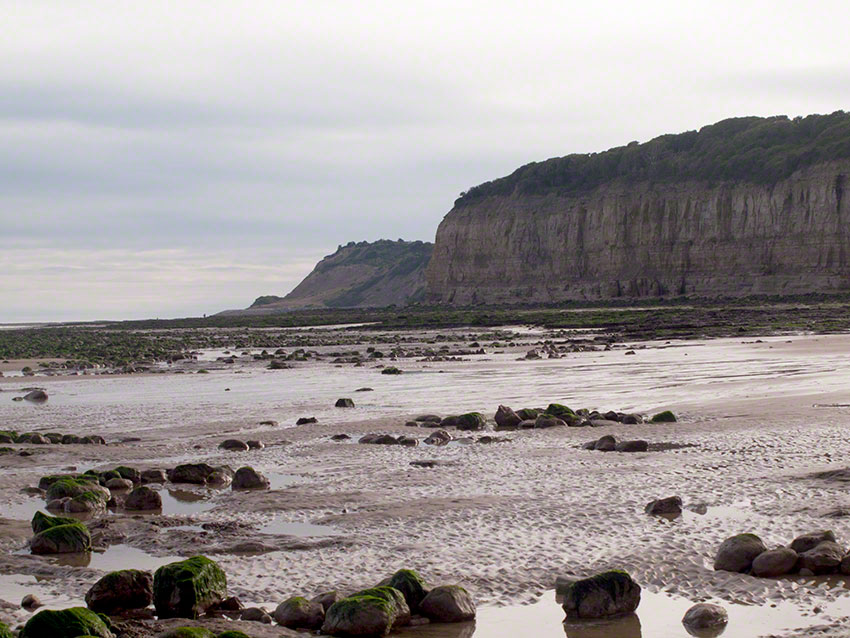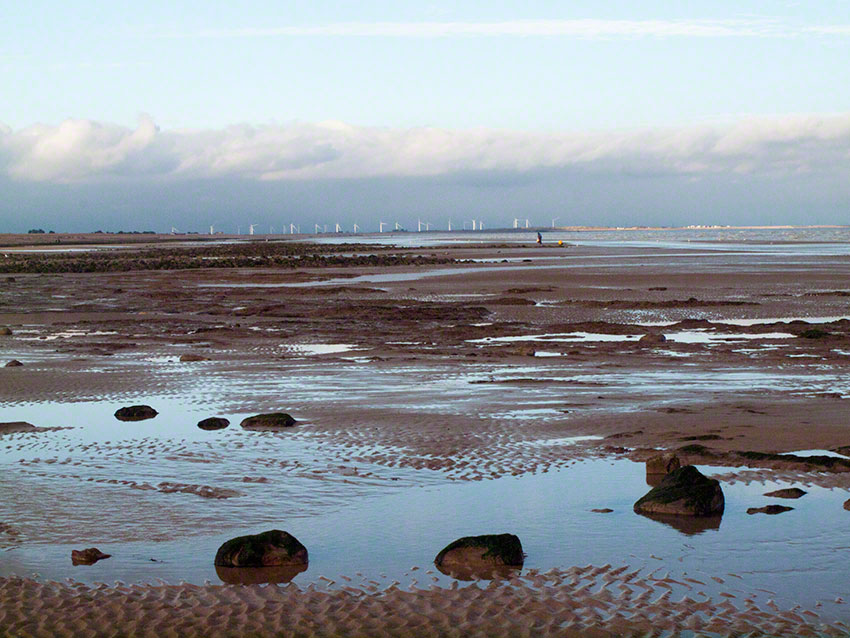 The shingly upper to mid part of the beach forms an earea with extensive mussels, limpets and barnacles interspersed with shallow rockpools. Few algae grow here.
Further down and extending to the extreme lower shore pieces of fossil wood are exposed and can be quite large represented by tree trunks and root plates. The wood is not fossilised and so has and is bored by marine bivalves. The harder wood is oak, the softer birch and hazel.
A light covering of algae grows over the less exposed parts of the wood. Pools occur throughout this region, with sandy bottoms. Some species occurring here:
ALGAE Chondrus crispus, Ceramium sp., Corallina officinalis, Porphyra purpurea, Ulva lactuca, Ulva linza, Ulothrix sp., Chaetomorpha ligustica, Fucus serratus, Fucus vesiculosus, diatoms.
CNIDARIA Actinia equina, Sagartia troglodytes, Dynamena pumila
POLYCHAETES Lanice concheliga, Arenicola marina, Eulalia viridis, Spirobranchus lamarcki, Amphitrite sp.
MOLLUSCA Cerastoderma edule, Mytillus edulis, Pholas dactylus, Barnea candida, Gibbula cinerea, Gibbula umbilicalis, Littorina littoralis, Littorina saxatilis, Littorina obtusata, Nucella lapillus, Tritia reticulata, Ocenebra erinacea, Patella vulgaris, Lepidochitona cinerea, Crepidula fornicata
BRYOZOA Membranipora membranacea, Electra pilosa, Alcyonidium gelatinosum
ECHINODERMATA Asterias rubens, Amphipholis squamata
CRUSTACEA Carcinus maenas, Necura puber, other, Pagurus berhardus, Porcellana platycheles, Pisidia longicornis, Crangon crangon, Palaemon elegans, Semibalanus balanoides, Austrominius modestus, Athanas nitescens
PISCES Dicentrachus labrax, Lipophrys pholis, Pomatoschistus minutus
Additional species found previously:
Pelvetia canaliculata, Corralina officinalis, Ensis ensis, Palmaria palmata, Sphaeroma serratum, Chondrus crispus, Aequipecten opercularis, Spirorbis spirorbis, Cancer pagurus, Ciliata mustela, Gobius paganellus, Ligia oceanica